1/1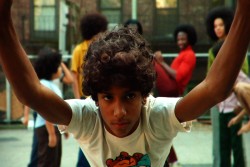 ---
MOSQUITO
NY Premiere
Cast:Alejandro Polanco, Reymond Wittmann, James Cartwright
Crew:Producer: Jeremy Engle, Ferne Pearlstein, Amanda Platner - Screenwriter: Jeremy Engle - Editor: Ernest Leif Boyd - Cinematographer: Ferne Pearlstein - Original Score: Torbitt Schwartz - Sound: Alexa Zimmerman - Production Design: Gino Fortebuono
Sales:Jeremy Engle - Mosquito Films LLC - New York, NY 10025 - T: 917-488-1134
Email:jengle280@gmail.com
Synopsis
MOSQUITO is about humiliation and redemption - the coming of age story of Cesar, a 13-year old Dominican boy whose awkward bravado and fanciful imagination have earned him the nickname Mosquito. On a memorable Halloween night in 1974, Cesar fights to win the respect of his teenage tormentors.
Trailer
About the director
First-time writer/director Jeremy Engle, born and raised in NYC, has been a public school teacher and educator for more than 10 years, teaching history and documentary video making to teenagers and adults. He has worked with schools and teachers across the country to develop more interactive and youth-centered approaches to learning. He recently completed the feature-length screenplay HALF LIFE - which is also told through the eyes of young kids growing up in NYC in the 1970's.
Filmmaker's note
MOSQUITO captures the gritty look and feel of NYC in the 70's through the documentary lens of Sundance Cinematography Award winner Ferne Pearlstein (Imelda, 2004). Alejandro Polanco, star of the critically acclaimed film Chop Shop, leads the ensemble cast.
Notes
Director Jeremy Engle and young cast of actors will be available for Q&A after the screenings.
Related links