1/1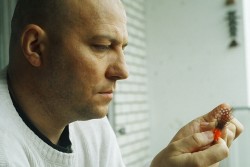 ---
NOON
(Midi)
US Premiere
Cast:Costa Tavaroniski, Stefania Hristea
Crew:Producer: Vuk Stojanovic - Screenwriter: Dan Popa - Editor: Dan Popa - Cinematographer: Dan Popa - Original Score: Ian Noel - Sound: Martin Pensa, Nick Martin
Sales:Guillaume Lavoie - Vidéographe, 6560, Avenue de L'Esplanade, #305, montréal, Qc, Canada, H2V 4L5 - T: 1-514-866-4720 - F: 1-514-866-4725
Email:festival@videographe.qc.ca
Synopsis
Today is Koppa's birthday, and he is celebrating it by sitting on his 9th floor balcony and putting the finishing touches on his customized fishing hooks. After diner, and a brief one-way conversation, Koppa reveals to the audience the nature of his anxiety; he hates milk, neighbors, wearing a tie and most of all, he hates his own inability to do anything about his future.
Trailer
About the director
Dan Popa is a Montreal based filmmaker, of Romanian origin, who directs and photographs his own work. He studied filmmaking at Concordia University and has worked as a freelancer in both film and design. His main interest is opposing artificial environments to social interactions. His research focuses on the exploration of contradictions, both aesthetically and formally, through new cinematic approaches. His films include Remember (2007) , Neon Colony (2006) and Fairweather (2006). In 2006, he opened NATALI Film, his own film production company and is currently working on a feature poetic film photographed on four continents, about the rise and fall of a Republic that never existed.
Notes
Director Dan Popa will be available for Q&A after the screenings.
Related links