1/1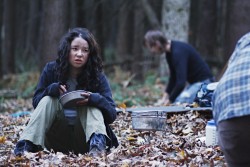 ---
MONKEYWRENCH
NY Premiere
United States, 2009, 10 min
Shooting Format:RED
Festival Year:2010
Category:Narrative Short
Cast:Sarah Steele, Josh Renfree
Crew:Executive Producer: Trevor Sagan - Producer: Myna Joseph - Screenwriter: Chris Teague - Editor: John Magary, Chris Teague - Cinematographer: Aaron Kovalchik - Original Score: Kai Gross - Sound: Micah Bloomberg
Sales:Chris Teague - Brooklyn, NY 11238 - T: (917) 499-3966
Email:cjteague@gmail.com
Synopsis
A young environmental activist finds her ideology tested in a forest on the verge of being clearcut.
Trailer
About the director
Chris Teague is a writer, director, cinematographer, and graduate of Columbia University's MFA program. As a cinematographer, he most recently shot the feature film CHILDREN OF INVENTION, which premiered at the Sundance Film Festival in 2009. Chris has also acted as cinematographer on MAN, THE SECOND LINE, and SALT KISS, all short films that have played at the Sundance Film Festival, while individually they have played at The New York Film Festival, Director's Fortnight at Cannes, New Directors/New Films, and the Tribeca Film Festival, among others. As a writer/director, Chris made the short film THORNDIKE, which played at the Tribeca Film Festival in 2007 and also earned him second place in the Kodak Eastman Scholars program and a New Line Cinema development grant.
Notes
Actress Sarah Steele will be available for Q&A after the screenings.
Related links