1/1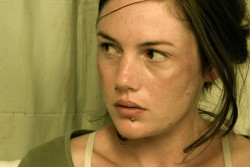 ---
THE SHELTER
(L'Abri)
US Premiere
Director: Antoine Duquesne
Belgium, 2009, 12 min
Shooting Format:HDCAM
Festival Year:2010
Category:Narrative Short
Cast:Alice Hubball, Laurent Bonnet
Crew:Producer: Eve Commenge - Screenwriter: Antoine Duquesne - Editor: Thierry Douley - Cinematographer: Antoine Duquesne - Sound: Joachim Hansen - Production Designers: Alain Roch, Alina Santos
Sales:Mark Delottinville - Ouat Media - Toronto, ON, M6P 1Y7 CANADA - T: +14169797380 - F: +14164929539
Email:mark.delottinville@ouatmedia.com
Synopsis
In the heart of a big city threatened by an impending danger, a man and a woman barricade themselves in a hotel room...
Trailer
About the director
Born in Belgium in 1974, Antoine Duquesne studied cinema at the INRACI film school in Brussels. He has shot many short films as a cinematographer. In 2007, he co-directed "No Tomorrow" before shooting "The shelter" his first film in solo.
Notes
Director Antoine Duquesne will be available for Q&A after the screenings.
Related links