1/1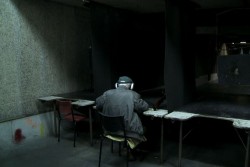 ---
THE SMALL ARMY OF THE SILVER MOUNTAIN
(Het Kleine Leger van de Zilveren Berg)
US Premiere
Belgium, 2009, 16 min
Shooting Format:HDCAM
Festival Year:2010
Category:Documentary Short
Crew:Executive Producer: RITS Filmschool Brussel - Producer: Jason Boënne - Editor: Jason Boënne & Dieter Allaerts - Cinematographer: Jason Boënne - Original Score: The Cinematic Orchestra - Sound: Bastiaan Delforche & Tonny Vanderavert
Sales:Jason Boënne - Antwerpen, BELGIUM - T: +32 473632168
Email:jasonboenne@yahoo.com.au
Synopsis
In a world where firearms are simultaneously glorified and condemned by mainstream media, you can find a small group of people in the Antwerp underground that feel quite differently about guns. A story about men with particular tales in a peculiar basement.
Trailer
About the director
Born to make fiction films, Jason Boënne, a multilingual young man, drastically changed his mind towards documentary filmmaking during his studies at the RITS film institute of Brussels. His main objective is to make creative portraits of specific groups or places with a political & cynical undertone.
Notes
Director Jason Boënne will be available for Q&A after the screenings.
Related links