1/1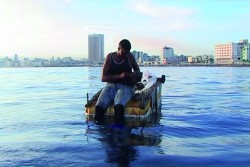 ---
THE FUTURE IS NOW
(El Futuro es Hoy)
US Premiere
Cuba, 2009, 35 min
Shooting Format:DVCam
Festival Year:2010
Category:Documentary Short
Crew:Producer: Elena Pedrazzoli - Screenwriter: Sandra Gomez - Editor: Rolando Colla - Cinematographer: Sandra Gomez - Original Score: Silvio Rodriguez - Sound: Alban Henriquez
Sales:Elena Pedrazzoli - Zürich Switzerland - T: +41 44 422 47 70 - F: +41 44 422 90 40
Email:peacock@peacock.ch
Web:www.peacock.ch
Synopsis
Life in Havana, suspended in a state of waiting. For the first time since the revolution, Fidel Castro is not in power. Seven people express their complementary yet contradictory ideas. Some would like things to carry on as they are, while others hope for change. All seven are associated with the Malecón, Havana's famous sea wall, where the city opens out to the horizon.
Trailer
About the director
Sandra Gomez was born 1976 in Havana, Cuba. Sandra graduated in 2004 at the Film School "Escuela de Cine y Television, San Antonio de los Baños", Havana, as Director of Photography. She has been living in Switzerland since 2005. Sandra is currently developing "Children of the Night": The story of children whose skin cannot be exposed to sunlight as this would have lethal consequences. Their daily routines shifted to night-time, their desperation and moments of joy, their fragile existence.
Filmmaker's note
In my documentary "The Future is Now", I tried to influence the characters' behaviour as little as possible. This also holds true for the interviews: the characters were encouraged to express themselves freely. The result is a film with seven characters: a fisherman, a security guard, a writer, a doctor/rocker, a mother and son who live at the Malecón, two children and a man who has pitched his tent on the waterfront. All the characters complement, strengthen and contradict one another. The variety of views expressed in the film is important to me, as I believe it reflects reality of life for Cubans who at this moment in time have conflicting ideas. Some of them are hoping for change while others would like things to continue as they have been and still are. Although it is impossible to see with someone else's eyes, I was interested in showing each character's situation and hopes for the future through their own eyes and allowing the audience to draw their own conclusions. In these historic times, when opposing attitudes are vehemently expressed within a society, there arises a risk of division. The mother and son who live at the Malecón, for instance, have contrary views. From the outset, I chose characters who were in some form or another associated with the Malecón. The final scene, in which they are all united at this location, is an image which I had not envisioned from the outset, but now concludes the film like a hope - maybe utopian - that Cuban society can remain united.
Related links