1/1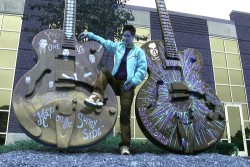 ---
10 YEARS TO NASHVILLE
(10 lat do Nashville)
US Premiere
Director: Katarzyna Trzaska
Poland, 2009, 38 min
Shooting Format:HDCAM
Festival Year:2010
Category:Documentary Short
Crew:Executive Producer: Agata Rzepka - Producer: TRYGON FILM (Agata Rzepka), KPS (Agnieszka Janowska) - Screenwriter: Katarzyna Trzaska - Editor: Tymek Wiskirski - Cinematographer: Piotr Rosołowski - Additional Cinematography: Patryk Jordanowicz, Tomasz Głowacki - Original Score: Czas na grass - Sound: Krzysztof Zalewski, Rafał Wiszowaty - Production Manager: Anna Wydra
Sales:Agata Rzepka - TRYGON FILM - NJ 08234, USA - T: USA 001 609-569-0270
Email:agata@trygonfilm.com
Synopsis
Iza is a 33 year-old cleaning lady in a Polish railway station. Her friend Mariusz owns a railway toilet. Together, they dream of traveling to America, to Manhattan and then to Nashville, to see "country music USA." Iza loves country music and dreams of performing in front of a Nashville audience. But she and Mariusz do not speak English, their knowledge of foreign countries is weak, and they are comically naive. Yet their optimism and determination is worth admiration. This is a story about dreams, and about two outsiders for whom the journey becomes an important path to self-awareness.
Trailer
About the director
Katarzyna Trzaska studied English literature, performed in amateur theatre and worked for many years in film production before she decided to study film direction at the Krzysztof Kieślowski Faculty of Radio and Television in Katowice. At the school she made short fiction films as well as short documentaries. "10 Years to Nashville" is her documentary debut, and was realized after graduation. Katarzyna is also an author of film and television scripts for the Polish Polsat Television.
Notes
Director Katarzyna Trzaska and Producer Agata Rzepka will be available for Q&A after the screenings.
Related links