1/1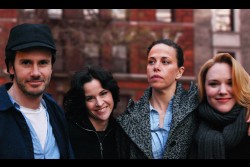 ---
TEN STORIES TALL
NY Premiere
Cast:Ally Sheedy, Tovah Feldshuh, Josh Hamilton, Jim Gaffigan, Jennifer Regan, Sherri Saum, Jean Brassard, Emily Skinner, Simon Jutras
Crew:Producer: Merle Augustin, Kaer Vanice - Screenwriter: David Garrett - Editor: Matt Mayer - Cinematographer: Jaron Presant - Original Score: Michael Tremante
Sales:Kaer Vanice - New York, NY - T: 646-785-1065
Email:kvanice@gmail.com
Synopsis
As two New York families grieve the loss of a beloved matriarch, death takes center stage in their own daily struggles: Charlie, who refuses to treat his heart condition in spite of his girlfriend's challenges to fight; Jackie, who can't reconcile her mother's secrets with the life she lived; Alain, whose alcoholic brother lays dying in hospital - and insulting anyone within earshot; and Josephine, whose hard-earned sobriety has left her feeling simply dead. Soon, death becomes a force for startling revelations in their lives - and spurs unexpected journeys of self-discovery.
Trailer
About the director
David Garrett's first film was an adaptation of his play Your Children: the Testimony of Charles Manson. His next short, Clown Car, won several festival awards, and found distribution through Warner Brothers' DVD "Short" collection. He's been a semi-finalist in the Nicholl Fellowship competition, and won the Ezra Litwak Award for Distinction in Screenwriting from Columbia University, where he graduated with honors, receiving an MFA in film in 2008. His short Warlord debuted at the Rotterdam Film Festival and won best short at the South by Southwest festival in 2008. Ten Stories Tall is his first feature.
Notes
Director David Garrett, producers Merle Augustin & Kaer VaniceMerle and the film cast will be available for Q&A after the screenings.
Related links