1/1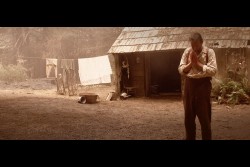 ---
REDLAND
East Coast Premiere
WINNER: Best Cinematography
Cast:Lucy Adden, Toben Seymour, Mark Aaron
Crew:Executive Producer: - Producer: Magdalena Zyzak - Screenwriter: Asiel Norton/Magdalena Zyzak - Editor: Ryan Bartley, Michael Palmerio - Cinematographer: Zoran Popovic - Original Score: T.K.Broderick - Sound: David Bartlett
Sales:Zac Reeder, Circus Road Films - Westlake Village, CA 91362 - T: (818) 991-0110
Email:zreeder@circusroadfilms.com
Synopsis
A rural family struggles to survive extreme hardship in the American wilderness during the Great Depression. Hauntingly dark, this story about the eternal laws of survival and existence traces the disastrous aftermath of a secret love affair. Spectacular cinematography frames this disturbing journey into the unknown, exploring the dissolution and rebirth of a family.
Trailer
About the director
Asiel Norton was raised in a small cabin on Kneeland Mountain, CA. with no television, limited electricity, and water attained from a nearby stream. He attended the Brooks Institute of Photography, and has worked as a fine art photographer; in 2004 he graduated from USC Film School. Redland - his first feature film - premiered at the 2009 CineVegas Film Festival, played at Montreal World Film Festival, and won Best Debut Feature at 2009 Raindance Film Festival in London. Norton was recently included in Filmmaker Magazine's 2009 "25 New Faces of Independent Film" and Redland was nominated for 2010 Independent Spirit Award.
Notes
Asiel Norton and Magdalena Zyzak will be available for Q&A after the screenings.
Related links