1/1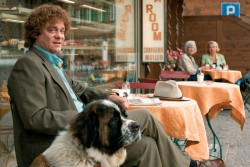 ---
THE WELFARE WORKER
(Der Fürsorger)
US Premiere
Switzerland, 2009, 93 min
Shooting Format:Super 16
Festival Year:2010
Category:Narrative Feature
Cast:Roeland Wiesnekker, Katharina Wackernagel, Claude De Demo, Johanna Bantzer, Andrea Guyer
Crew:Executive Producer: David Grumbach - Producer: Rolf Schmid, Paul Thiltges, Anita Elsani - Screenwriter: Felix Benesch & Anita Elsani - Editor: Thierry Faber - Cinematographer: Sten Mende - Original Score: Anselme Pau - Sound: Laurent Barbey
Sales:Paul Thiltges - Luxembourg - T: +352 250393 1 - F: +352 250394
Email:info@ptd.lu
Web:fuersorger.ch
Synopsis
Welfare worker Hans-Peter Stalder possesses the secret code to happiness: a money-multiplying strategy which promises incredible wealth to its hand-picked investors and a subsequent life of leisure and luxury. There's only one downside to his story: it's entirely made up of lies and the only one who really benefits from it is Stalder himself. For thirteen years the notorious conman and womanizer fools his guileless victims and tricks the authorities, embezzling millions and taking women's hearts by storm. But when a stupid mistake trips him up, the time has come for confession - big-time confession. With each revelation of intimate detail, an increasingly colourful figure emerges. From the behind the mask of respected citizen Hans-Peter Stalder a whole slew of characters step out: the unscrupulous swindler, the love-hungry ladykiller, the remorseful family man... Nothing is what it seems. But everything is true. Almost everything.
Trailer
About the director
Lutz Konermann, born in Bardenberg, Germany, in 1958, has been living and working in Switzerland for twenty years (ten of which in Zurich). He is married to film professor Barbara Flückiger and has a daughter, Silvana. As a member of the board of FOCAL, the Foundation for Training and Further Education, and the Swiss Association of Film Directors and Screenwriters, FDS, he has actively contributed to the shaping of the Swiss film landscape. Since its foundation in 1991, Konermann has taught film directing and cinematography at the Film Academy Baden-Württemberg in Ludwigsburg. In 1999 he was appointed director of the content-development programme "Fernsehfilme SF DRS" (television films SF DRS) and has since then cinematographically accompanied and stimulated the upswing of swiss-spoken films. On top of his teaching activities, Lutz Konermann has worked as an actor, director, cinematographer and camera man for 25 years. Because of his cooperation and participation in over one hundred film and television productions of various types, genres and formats, he also possesses hands-on experience in the acting, editing, producing and distributing field.
Notes
Producer David Grumbach will be available for Q&A after the screenings.
Related links