1/1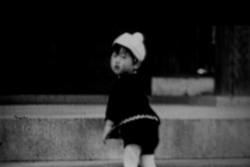 ---
MEMORY OF ABSENCE
World Premiere
Director: Kunitoshi Okuno
Crew:Editor: Kuintoshi Okuno - Cinematographer: Tadashi Okuno, Kunitoshi Okuno - Sound: Izumi Kamikura - Collaborator: Tokiko Watai
Sales:Kunitoshi Okuno - Fort Lee, NJ - T: +1-201-482-8547 / Tokyo, JAPAN - T: +81-3-5995-8220 - F: +81-3-5995-8229
Email:okuno.kunitoshi@nihon-u.ac.jp
Synopsis
The original images are single8 film taken by my father. I think these images are general sights seen in the 1970's. I removed me from these old images in the editing process. This work takes up memory and digital image.
Trailer
About the director
Born in Tokyo in 1969, Kunitoshi Okuno has been making video art work that aims to find the correlation of the new narrative form with the transfigured medium since 1987. Kunitoshi also collaborates with many artists in other fields - musicians, sculptors and performers. In 2009 he was as lecturer at Nihon University College of Art.
Notes
Kunitoshi Okuno will be available for Q&A after the screenings.
Related links