1/1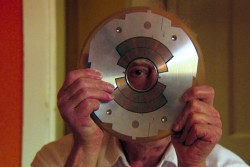 ---
HIGGS, INTO THE HEART OF IMAGINATION
US Premiere
Director: Hannie van den Bergh & Jan van den Berg
Netherlands, 2009, 54 min
Shooting Format:XDCam
Festival Year:2010
Category:Documentary Feature
Crew:Executive Producer: Viewpoint Productions - Producer: Valérie Schuit - Screenwriter: Hannie van den Bergh, Jan van den Berg - Editor: Ben De Loenen - Cinematographer: Sander Snoep, Stef Tijdink, Rogier Timmermans - Original Score: Jacq Palinckx - Sound: Carla van der Meijs, Gideon Bijlsma, Frenk van der Sterre, Jac Vleeshouwers
Sales:Robin Brinster - Illumina Films, Leidsestraat 106 /3, 1017 PG, Amsterdam, Netherlands - T: +31 (0) 20 6248395 - F: +31 (0) 20 3308155
Email:robin@illuminafilms.nl
Synopsis
Higgs takes us inside the Large Hadron Collider (LHC) on a quest for the Higgs particle. Sometimes called "The God Particle," this is the missing link in particle physics. At CERN, a physics lab underneath the border between France and Switzerland, the biggest research project in history is under construction: the LHC, which at 17 miles long is the most powerful particle accelerator ever. Thousands of scientists from all over the world are working together at CERN to find the Higgs particle, which is a needle hidden in a million haystacks. Filmed over the course of four years, as research at the largest laboratory on earth unfolds, the filmmakers take us on an amazing cinematic journey into the heart of imagination.
Trailer
About the director
Born in 1961, Jan van den Berg studied fundamental theology, sociopolitical philosophy, and theater direction. Later, he became an explorer of an exceptional kind: the expeditions he undertakes are not so much to actual places around the world, but rather to the boundaries of the naked eye and intellect. Hannie van den Bergh (b. 1964) studied at the Gerrit Rietveld Academy in Amsterdam and the Accademia di Belle Arti Milano (under Luciano Fabro). She is art director for Studio HB, an agency for graphic design and multimedia projects that she set up in 1993. Van den Bergh combines her experience as both a visual artist and a graphic designer to initiate art projects at home and abroad, often employing video as well
Notes
Directors Hannie van den Bergh and Jan van den Berg will be available for Q&A after the screenings.
Related links