1/1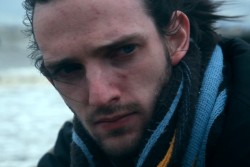 ---
MAKE PIECE
US Premiere
Director: Cat Campbell-Berry & Jo Wallace
England, 2009, 5 min
Shooting Format:HDCAM
Festival Year:2010
Category:Narrative Short
Cast:Nick Howard-Brown, Penelope Granycome
Crew:Executive Producer: Jo Wallace - Producer: Michelle Fraser - Screenwriter: Jo Wallace and Cat Campbell-Berry - Editor: Susie Jones - Cinematographer: Leon Willis - Original Score: Robert Berry - Sound: Trevor Moore
Sales:Jo Wallace - London, NW1 4EB, UK - T: +44 07930 404662
Email:jo@catandjo.com
Synopsis
Alone in a factory, an engineer with a broken heart turns to his dispassionate machines in a desperate attempt to manufacture the piece to fill the gap left by his ex-girlfriend. Fixing a broken machine is not like fixing a broken human heart.
Trailer
About the director
Cat Campbell-Berry and Jo Wallace are a female writing and directing duo. With a background in commercials, they decided to create something beyond the realm of 30 seconds. And with no pack-shot! Cat has previously produced a documentary set in Japan, and Jo shot a short film on super 8 (editing everything in camera), which was selected to screen in the Cannes Lions Festival '09.
Notes
Jo Wallace and Cat Campbell-Berry will be available for Q&A after the screenings.
Related links