1/1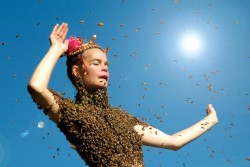 ---
QUEEN OF THE SUN
East Coast Premiere
Cast:Gunther Hauk, Michael Pollan, Vandana Shiva, Jacqueline Freeman, May Berenbaum
Crew:Producers: Taggart Siegel, Jon Betz - Editor: Taggart Siegel, Jon Betz - Cinematographer: Taggart Siegel - Original Score: Jami Sieber - Sound: Ryan Mauk
Sales:Jon Betz - Collective Eye, Inc. - 2305 S.E. Yamhill street Suite #101, Portland, OR, 97214, US - T: 503-232-5345 - F: 503-296-5515
Email:jon@collectiveeye.org
Synopsis
Without bees, Albert Einstein said, "man would only have four years of life left." From the director of The Real Dirt on Farmer John comes a profound, alternative look at the tragic global bee crisis. Juxtaposing the catastrophic disappearance of bees with the mysterious world of the beehive, Queen of the Sun weaves an unusual and dramatic story of the heart-felt struggles of beekeepers, scientists and philosophers from around the world. Featuring Michael Pollan, Gunther Hauk and Vandana Shiva, Queen of the Sun reveals both the problems and the solutions of renewing a culture that is in balance with nature.
About the director
Queen of The Sun is the latest documentary from Taggart Siegel, who has produced and directed Emmy-nominated, award-winning documentaries and dramas. The Real Dirt on Farmer John, Siegel's critically acclaimed documentary about a maverick visionary farmer, won 31 international film festivals awards and was broadcast and theatrically released. Siegel's culturally diverse documentaries include ITVS and Independent Lens' The Split Horn: The Life of a Hmong Shaman in America, as well as Between Two Worlds, Blue Collar and Buddha and Heart Broken in Half. Siegel is the co-founder of Collective Eye, a media distribution organization based in Portland, Oregon.
Taggart Siegel's filmography
Notes
Key characters in the film, Ron Breland, an sustainable, organic beekeeper from upstate New York, and Jacquie Berger, Executive Director of Just Food, a key play in the push to legalize beekeeping in New York City, will be available for Q&A after the Sunday June 6th screening.
Related links