1/1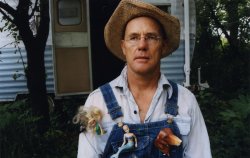 ---
THE REAL DIRT ON FARMER JOHN
NY Premiere
United States, 2005, 83 min
Shooting Format:DVCam
Festival Year:2005
Category:Documentary Feature
Cast:"Farmer" John Peterson, Anna Peterson
Crew:Producers: Teri Lang, Taggart Siegel - Screenwriter: John Peterson - Editor: Greg Snider - Cinematographer: Taggart Siegel - Original Score: Mark Orton, Dirty Three - Sound: Barney Jones
Sales:Diana Holtzberg c/o Films Transit, 166 2nd Avenue New York, NY 10003, USA - T: 212 614 2808 - F: 212 614 2808
Email:Diana@filmstransit.com
Synopsis
The Real Dirt on Farmer John is a personal documentary about John Peterson, a farmer, artist, and eccentric/innovative thinker cast in rural Illinois. Filmmaker Taggart Siegel has documented John's struggle to redefine his family farm for over twenty years, witnessing the colorful drama of John's life. With the death of his father during the late 60's John turns his traditional family farm into an experiment of art and culture, making it a haven for hippies, radicals and artists. The Real Dirt on Farmer John charts the end of this idealistic era as the farm debt crisis of the 1980s brings about the tragic collapse of the farm. As the intricate weave of rural America unravels, vicious local rumors turn John into a scapegoat, condemning him as a Satan-worshipping drug-dealer. Threatened with murder, his home burned to the ground, John defies all odds to transform his land into a revolutionary farming community. At the film's close, the Peterson family farm is one of the largest Community Supported Agriculture (CSA) farms in the United States. Out of the ruins of single-crop agriculture, John creates an extended farm village where people and art can thrive alongside agriculture.
Trailer
About the director
Queen of The Sun is the latest documentary from Taggart Siegel, who has produced and directed Emmy-nominated, award-winning documentaries and dramas. The Real Dirt on Farmer John, Siegel's critically acclaimed documentary about a maverick visionary farmer, won 31 international film festivals awards and was broadcast and theatrically released. Siegel's culturally diverse documentaries include ITVS and Independent Lens' The Split Horn: The Life of a Hmong Shaman in America, as well as Between Two Worlds, Blue Collar and Buddha and Heart Broken in Half. Siegel is the co-founder of Collective Eye, a media distribution organization based in Portland, Oregon.
Taggart Siegel's filmography
Notes
"Farmer" John Peterson will be available for Q&A after the screening.
Related links