1/1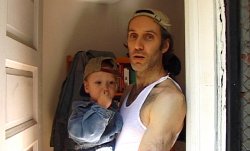 ---
THE DEFINITION OF INSANITY
Director: Robert Margolis & Frank Matter
United States, 2004, 85 min
Shooting Format:MiniDV
Festival Year:2005
Category:Narrative Feature
Cast:Robert Margolis, Kelli K Barnett, Dawn Anderson, Frank Krias, Peter Bogdanovich
Crew:Cinematographer: Frank Matter - Original Score: Paula Atherton, Amy Fairchild
Sales:Steven C. Beer, Executive Producer c/o Greenberg Traurig LLP, Met Life Building, 200 Park Avenue - New York, NY 10166 - T: 212-801-9294 - F: 212-801-6400
Email:beers@gtlaw.com
Synopsis
THE DEFINITION OF INSANITY is a tragi-comedy about elusive dreams, love, loss, and the passions that drive us. It is structured as a documentary about Robert (Robert Margolis), an actor moving past his prime who is still running after that one great role. Robert's life begins to unravel as he struggles to survive in a competitive and often brutal environment without realizing how his obsession affects the people close to him. Like many barely surviving artists he faces the existential question: How much of his life does he want to sacrifice to art? And when is the time to move on? When he meets legendary film director Peter Bogdanovich ("The Cat's Meow", "The Last Picture Show"), that question is answered in an unexpected way. Blurring the line between fiction and reality, the directors combine their fictional story with actual documentary footage, a mix that gives the material freshness, immediacy and an unsettling authenticity. THE DEFINITION OF INSANITY is a film about big dreams and everyday rituals, humiliating defeats and little triumphs, and the inexplicable optimism - some might call it delusion - that keeps us going.
Trailer
About the director
Robert Margolis is an actor, director, and writer born in New York City. He has worked as a psychoanalyst, a groundskeeper and a building super. As an actor, he has had leading roles in numerous independent feature films. He has also been the recipient of a Fulbright Fellowship for study abroad. He is a member of the Screen Actors Guild. He is the father of four year old Dylan Margolis, who makes his acting debut in "The Definition of Insanity."
Frank Matter was born on June 8, 1964, in Sissach, Switzerland. He is currently a resident of Brooklyn, NY. After school, he first worked as a journalist and a magazine staff writer, living in Locarno and Basel. After having been an assistant director and co-writer on a Swiss TV documentary, he started to write and direct his own films and videos. In 1993, he moved to New York, where he continued to work in films. His works have been shown at festivals in Locarno, New York, Montreal, Ankara, Calcutta, to name just a few, as well as in museums and theatres in many different places.
Notes
Directors Robert Margolis & Frank Matter will be available for Q&A after the screening.
Related links