1/1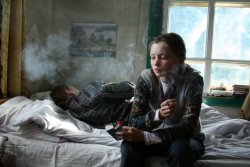 ---
SIBERIA, MONAMOUR
US Premiere
Russia, 2011, 101 min
Shooting Format:35mm, Dv-Cam
Festival Year:2011
Category:Narrative Feature
WINNER: Best New Director
Cast:Petr Zaichenko, Misha Protsko, Sonya Ross, Nikolay Kozak, Maxim Emelyanov, Sergey Novikov, Lidiya Bayrashevskaya, Sergey Puskepalis
Crew:Executive Producers: Julia Ermolaeva - Producers: Slava Ross, Pavel Skurikhin, Igor Chekalin, Vadim Zhuk - Screenwriters: Slava Ross - Cinematographer: Yury Raiskiy - Editor: Igor Litoninsky - Composer: Aydar Gaynullin
Sales:Europa corp.
Email:slava_ross@mail.ru
Synopsis
As unrelenting as a wild dog attack, "Siberia, Monamour" is a powerful story of life and death on the fringes of Russian society. In a deserted Siberian village, an old man and his grandson wait. The boy's father left two years ago and has not returned. A pack of feral dogs also waits just outside the village, devouring everything alive. One of these dogs is the boy's best friend. The others keep the boy and his grandfather isolated in the wilderness, far from the nearest village. Through this dangerous yet beautiful landscape wander a host of soldiers, marauders, prostitutes and drunks. They are all searching for an escape.
Trailer
About the director
Slava Ross lives in Moscow, Russia
Notes
Director Slava Ross will be available for Q&A after the screening.
Related links