Latest News: UPDATES: W ZAPPATORE, gets theatrical distribution across Italy via Distribuzione Indipendente --- W ZAPPATORE is now available On Demand, to Rent or Buy from Indiepix distribution. --- The film's original soundtrack is available on Itunes or Amazon
1/1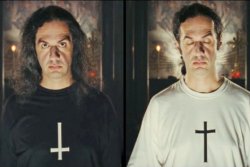 ---
W ZAPPATORE
US Premiere
Director: Massimiliano Verdesca
Italy, 2010, 84 min
Shooting Format:16mm
Festival Year:2011
Category:Narrative Feature
WINNER: Best Narrative Feature and Best Actor Female
Cast:Marcello Zappatore, Sandra Milo, Guia Jelo, Monica Nappo, Ilario Suppressa, Raffaele Maisto, Raffaello Murrone
Crew:Executive Producers: Francesco Fei, Simon Puccini - Producers: Matteo Meglioli, Massimiliano Verdesca - Screenwriters: Massimiliano Verdesca, Emiliano Ereddia - Cinematographer: Fabio Casati - Editor: Claudio Bonafede - Composer: Marcello Zappatore
Email:massi.verdesca@gmail.com
Synopsis
This hilarious, quirky Italian comedy explores the question: is it better to play the music of Satan or listen to the word of God? Marcello Zappatore is 33 years old. He earns a living by playing electric guitar in a Satanist heavy metal band. However, Marcello has a physical problem: an uncomfortable itch on the side of his rib cage that soon turns out to be stigmata. Is it divine intervention or just time for a change? Marcello does not know the answer, and the stigmata is causing him many problems. In one go, he loses his girlfriend and the flat they share, and is kicked out of his band. Marcello now finds himself ready to undertake a very personal voyage between two very different and incompatible worlds... that of God and that of Rock.
Trailer
About the director
Massimiliano Verdesca lives in Milan,Italy. W ZAPPATORE is Massimiliano's first feature.
Notes
Director Massimiliano Verdesca will be available for Q&A after the screening.
Related links