1/1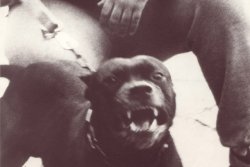 ---
MONEY DOG
World Premiere
United States, 2011, 14 min
Shooting Format:16mm
Festival Year:2011
Category:Narrative Short
Cast:Tim Braddock , Kody Glenn, Chino Lopez
Crew:Executive Producers: Andrew Malecki - Producers: Janet Cohlmia, Dennis Cohlmia - Screenwriters: Michael Holman - Cinematographer: Mark Richardson - Editor: Carlos Gonzalez - Lyrics Written & Performed: Tim 'single' Braddock - Music Written & Recorded: Christopher Downing
Email:a.malecki.film@gmail.com
Synopsis
Two teenage boys living on the desperate streets of the 1980's South Bronx steal a pit bull puppy from Paco the Psycho. They plan to train the dog to one day fight for money. As time passes, a loving friendship with the dog develops, creating a conflict between the boys. Meanwhile, Paco the Psycho has picked up their scent. Newly created from long-lost footage shot in the 1980's, this film provides a rare window into a vanished New York world.
Trailer
About the director
Michael Holman has been embedded in the creative fabric of New York City for over 30 years. Holman was a pioneer and ambassador of the Downtown Art Scene of the 1970's, where he made music and art with people like Jean-Michel Basquiat, Madonna and Vincent Gallo. Later, Holman got involved with an underground movement that would later become Hip Hop Culture. While Hip Hop was still in its infancy, Holman - with artists like Grand Master Flash, DJ Afrika Bambaataa and Crazy Legs of the Rock Steady Crew - helped shape and introduce this important cultural movement to America and the world. Holman's cinematic writings are rooted in his New York experience, with credits on films such as Harry Belafonte's "Beat Street," and Miramax's "Basquiat," directed by Julian Schnabel. Holman's script for "Money Dog" shines a bright light on a dark world, with its core message of personal choice despite one's surroundings and upbringings... a timely lesson and a message of hope for any species.
Filmmaker's note
As a hip hop pioneer, I have observed over the years, the importance held by fighting dogs in the hearts and imaginations of many teenagers, living in the Bronx. Within this duality of owning a pet bred for fighting, I saw great potential for drama as powerfully opposing needs - love and friendship versus violence and material gain - played themselves out between my two protagonists. With my film, "Money Dog," I bring this unique, urban drama to the screen.
Notes
Director Michael Holman and Executive Producer Andrew Malecki will be available for Q&A after the screening.
Related links