1/1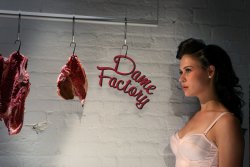 ---
DAME FACTORY INC.
World Premiere
Director: Melanie Abramov
United States, 2011, 7 min
Shooting Format:HDV
Festival Year:2011
Category:Experimental
WINNER: Best Experimental
Cast:Nicole Haddad, Sena Khoda, Catherine Davies, Heather Andersen, Rebecca Spiro
Crew:Producers: Lauren Simpson - Cinematographer: Jessica Brillhart - Editor: Melanie Abramov - Composer: Fatrin Krajka
Email:melabramov@gmail.com
Synopsis
"Dame Factory" is a short experimental film. It's a stylish yet grotesque, cynical yet sexy look at how our culture commodifies and objectifies female bodies and how we distort and merge concepts of womanhood and sex. Through a combination of beautiful cinematography, colorful set pieces, hypnotic performances and visually arresting special effects, "Dame Factory" will shock, titillate and push the limits of how we talk about lust in a post-feminist era where releasing a sex-tape is now passe and pole dancing has become simply another form of gym-sanctioned exercise. Enter Dame Factory with voyeuristic expectation and leave with more than you bargained for: a taste of the factory-made provocation that'll make your eyes pop and your stomach churn. Come get your fill ...
Trailer
About the director
Melanie Abramov is a creative from Coney Island, Brooklyn. She received her BFA from Parsons School of Design and uses motion graphics and filmmaking to bring her unique point of view to life. Under her freelance alias, Dame Designs, she has worked for clients such as Scion, Y&R, UVPH, Digitas and Ralph Lauren on high-profile commercial campaigns. She plans on adding to her 2011 reel with a series of avant-garde experimental shorts. "Dame Factory" is Melanie's debut short film.
Notes
Director Melanie Abramov, producer Lauren Simpson and members of the cast and crew will be available for Q&A after the screening.
Related links