1/1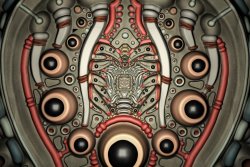 ---
AD INFINITUM
NY Premiere
Director: Benjamin Ridgway
United States, 2010, 2 min
Festival Year:2011
Category:Experimental
Crew:Executive Producers: Benjamin Ridgway - Producers: Benjamin Ridgway -
Email:21stcenturyshaman@gmail.com
Synopsis
'Ad Infinitum' is an animated exploration of the fractal like details of a sculptural continuum.
Trailer
About the director
Ben Ridgway is currently an Assistant Professor at Northeastern University in Boston, MA, USA. He has 12 years of professional experience as both a 3D artist in the video game industry and as a Professor. While in the games industry he helped to create games for Nintendo, Sony, and Microsoft console systems. As a filmmaker he has been creating award winning experimental films that have been showcased locally and internationally.
Notes
Director Ben Ridgway will be available for Q&A after the screening.
Related links