1/1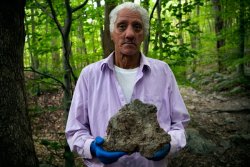 ---
MANN V. FORD
World Premiere
Director: Maro Chermayeff & Micah Fink
United States, 2011, 105 min
Shooting Format:DVCPro HD
Festival Year:2011
Category:Documentary Feature
Crew:Executive Producer: Donald Everett Axinn - Producers: Maro Chermayeff, Micah Fink, James Redford - Cinematographer: Robert Hanna, Tom Huriwitz, Axel Bauman, Wolfgang Held, Robert Richman, Matthew Akers, Jerry Risius, Ulli Bonnekamp, Alex Rappoport, Mead Hunt - Editor: Howard Sharp - Composer: Jonathan Sheffer - Senior Producer for HBO: Nancy Abraham- Executive Producer for HBO: Sheila Nevins
Email:maro@showofforce.com
Synopsis
One of the worst environmental disasters in the United States is located just 19 miles from New York City. This toxic Superfund site is at the former home of the Ford Motor Plant in Mahwah, NJ, which was the country's largest car factory when it opened in 1955. Thousands of cars were produced over the following decades, along with a mountain of toxic paint sludge, which was dumped on the nearby lands of the Ramapough Mountain Indians. This film tells the story of Wayne Mann, the leader of a small Native American community, who stands up to Ford. It spans from Ford's factory floors to the marbled halls of Congress. It is a tale of groundbreaking victories, including the first Superfund site ever re-listed by the EPA. It is also the story of terrible deaths and defeats. MANN v. FORD follows a community's mission to clean up the toxic byproduct of the American Dream, and to seek justice for themselves and their families.
About the director
Maro Chermayeff is an award-winning producer, director, author, and former executive. Some of her extensive producing and directing credits include: the series Circus (CPB/PBS 2010), Carrier (CPB/PBS 2008), Frontier House (PBS), Trauma, Life in the ER (TLC) and feature documentaries Juilliard (PBS, American Masters), The Kindness of Strangers (HBO) Role Reversal (A&E). She is currently in production on Half the Sky (CPB/PBS/ITVS) based on the bestselling book by Nicholas Kristof and Sheryl WuDunn and on the feature doc: Marina Abramovic: The Artist is Present (HBO). Maro is Founder and Chair of the MFA Program in Social Documentary at The School of Visual Arts in NYC, and served as a senior programming executive at AETN. She is a partner in the company Show of Force.
Micah Fink is an award-winning producer, director and writer specializing in international affairs, public health, and environmental issues. His most recent projects include, "Mann v. Ford" for HBO, and "Manila Hostage Crisis" for National Geographic Explorer. Currently on the faculty of the Social Documentary Program at the School of Visual Arts in NYC, Micah has produced over a dozen films for National Geographic, PBS, Wide Angle, Frontline, and ABC News. His work has been recognized with two Emmy nominations; two Cine Golden Eagle Awards, a Silver Screen award, and an International Film and Video Award. He was a Japan Society Fellow in 2008 and a Kaiser Media Health Fellow in 2005. He earned a MS in Journalism from Columbia University and a BA in Comparative Literature from Cornell University.
Notes
Directors Maro Chermayeff & Micah Fink will be available for Q&A after the screening.
Related links