1/1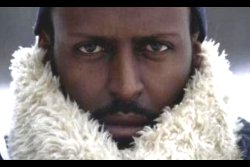 ---
THE ATHLETE
(ATLETU)
NY Premiere
Director: Davey Frankel & Rasselas Lakew
Ethiopia, 2009, 93 min
Shooting Format:35mm, Super 16
Festival Year:2011
Category:Narrative Feature
Cast:Rasselas Lakew, Dag Malmberg, Ruta Gedmintas, Abba Waka Dessalegn
Crew:Producers: Davey Frankel, Rasselas Lakew - Screenwriters: Davey Frankel, Rasselas Lakew, Mikael Aemrio Awake - Cinematographer: Philipp Pfeifer, Rodney Taylor, Toby Moore, Radoslav Spassov - Editor: Davey Frankel, Matt Mayer - Composer: Christian Meyer
Email:info@theathletefilm.com
Synopsis
Running the streets of Rome in 1960, an unknown, barefoot Ethiopian man stunned the world by winning Olympic gold in the marathon. Overnight, Abebe Bikila became a sports legend. A hero in his own country and to the continent, Bikila was the first African to win a gold medal and, four years later in Tokyo, the first person in history to win consecutive Olympic gold medals in the marathon. This soldier and quiet son of a shepherd is considered by many the greatest long-distance runner in history. But his life story only began with Olympic medals. One evening while returning to his home in Addis Ababa after training in the Ethiopian countryside, fate would present this remarkable champion with his greatest challenge; to dig deep within, not just to run the next mile, but to find the will to live. The race of his life had a new beginning and would lead him to places he could never have imagined. A truly unique approach to the biographical picture, 'Atletu(The Athlete)' focuses on the final years of Bikila's life; his quest to regain Olympic glory, his tragic accident, his determination to compete again. Shot in 35mm from the Arctic Circle to the Equator, 'Atletu(The Athlete)' is an extraordinary narrative feature that seamlessly blends autobiography, biopic, drama and documentary. This beautiful and moving independent film investigates the inner workings of a man who is ceaseless and single-minded in his journey for greatness.
Trailer
About the director
Davey Frankel & Rasselas Lakew live in NYC. The Athlete is their first feature.
Notes
Directors Davey Frankel & Rasselas Lakew will be available for Q&A after the screening.
Related links