1/1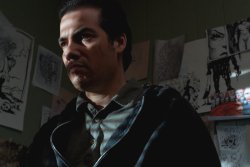 ---
SOME GUY WHO KILLS PEOPLE
US Premiere
United States, 2010, 93 min
Shooting Format:HDV
Festival Year:2011
Category:Narrative Feature
Cast:Kevin Corrigan, Barry Bostwick, Lucy Davis, Karen Black, Leo Fitzpatrick, Ariel Gade, Eric Price
Crew:Executive Producers: John Landis - Producers: Ryan Levin, Michael Wormser, Micah Goldman - Screenwriters: Ryan Levin - Cinematographer: Shawn Maurer - Editor: Chris Conlee
Email:ryanlevin@mac.com
Synopsis
Destined to be a cult classic, "Some Guy Who Kills People" is an off-kilter black comedy about a small town loner who sets out to kill the men he deems responsible for his miserable life.
Trailer
About the director
Perhaps best known for his camp sci-fi spectacular Mega Shark Vs. Giant Octopus director Jack Perez is a 20-year veteran of the motion picture and television industry. He has directed nine feature films, is the recipient of awards for both writing and directing, and has received the critical praise of Roger Ebert, Harry Knowles from Ain't It Cool News, drive-in critic Joe Bob Briggs, Fangoria, Film Threat, The LA Weekly, The Austin Chronicle and The New York Times. Mr. Perez graduated with honors from New York University's Department of Film and Television. In his early career, he was hired by Sam Raimi & Universal Studios to direct the pilot for the popular television series, Xena: Princess Warrior. Following his work on Xena, Mr. Perez directed two acclaimed feature films:The Big Empty, a revisionist private eye tale which competed at the AFI International Film Festival (winning the WGA's Best New Writer Award); and the black- comic thriller, La Cucaracha, which was honored with the Best Feature Award at the Austin Film Festival and was released theatrically to excellent reviews. In recent years, Perez directed Wild Things 2 for Sony/Columbia; wrote and directed the MTV horror send-up, Monster Island and wrote and directed Mega Shark Vs. Giant Octopus.
Notes
Director Jack Perez, Producer/Screenwriter Ryan Levin and actors Kevin Corrigan and Leo Fitzpatrick will be available for Q&A after the screening.
Related links