1/1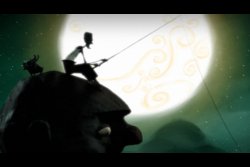 ---
MOONFISHING
East Coast Premiere
Director: David Michael Friend
New Zealand, 2010, 11 min
Shooting Format:MiniDV
Festival Year:2011
Category:Animation
Cast:Lindsay Abromaitis-Smith, Emily DeCola, Kate Brehm, Sarah Lafferty, Tara Conlon
Crew:Executive Producers: Sally Anne Syberg, Heather Henson - Producers: David Michael Friend - Cinematographer: Walter Mcgrady - Editor: Allyson C. Johnson - Composer: Claire Cowan
Email:david.michael.friend@dmfriend.com
Synopsis
A fisherman's hobby of sculpting is interrupted when he must perform his monthly task of illuminating the town he lives in. With container on back, fishing pole in hand, and his current carving stashed in his pocket, the lonely soul goes searching for the perfect spot to catch the moon's shimmering sister. But his shattered hope for exchanging his catch for the villager's fellowship returns him to his art for companionship.
Trailer
About the director
Besides producing and performing puppet theater, David Michael works as a freelance art director and illustrator in the television and film industry, creating for such companies as Sesame Workshop, Nickelodeon, Simon & Schuster and Saturday Night Live. He has also illustrated several books, including "Clemency Pogue: The Scrivener Bees", "The Squampkin Patch: A Nasselrogt Adventure" and the graphic novel "Daniel and the Great Bearded One". His latest endevore was with SpeakeasyFX in art directing and designing the Emmy winning show Abby's Flying Fairy School for Sesame Workshop.
Notes
Director David Michael Friend will be available for Q&A after the screening.
Related links