1/1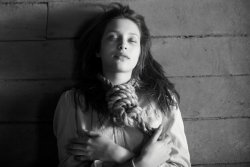 ---
LAST KIND WORDS
NY Premiere
United States, 2012, 87 min
Shooting Format:RED
Festival Year:2012
Category:Narrative Feature
WINNER: Best Original Score
Cast:Brad Dourif, Spencer Daniels, Sarah Steele, Alexia Fast, Marianne Hagan, Clay Wilcox
Crew:Producers: Duane Andersen, Amy Riherd Miller - Screenwriters: Kevin Barker - Cinematographer: Bill Otto - Editor: Dave Boyle, Kevin Barker, Yasu Inoue - Composer: Robert Aiki Aubrey Lowe
Email:currituckco@yahoo.com
Synopsis
A modern day Southern Gothic ghost story set in the farmland of Kentucky, "Last Kind Words" tells the story of 17-year old Eli, who moves with his family to the isolated farm of reclusive Waylon, a man whose dark past threatens to overtake him. Eli's family works to restore the desolate fields, while he becomes fascinated with the forests, where he meets the mysterious Amanda. She extracts a promise from him to avoid the deep woods. One night, reeling from a violent encounter with his father, Eli breaks this promise and finds her body hanging from a tree. To take the Faulkner quote literally, the past is never dead - Amanda has been a ghost for thirty years. Within the forests a different line is drawn between life and death. To save someone on the other side of that line, Eli is forced to make a tragic choice.
Trailer
About the director
Kevin started his career as a musician and has performed with Devendra Banhart, Joanna Newsom, Feist and Antony and the Johnsons in venues including Carnegie Hall, Town Hall and Saturday Night Live. His music documentary THE FAMILY JAMS, will be released by Factory 25. Kevin attended Columbia Film School. He did the soundtrack for (and appeared in) GABI ON THE ROOF IN JULY. He had an even briefer cameo in NICK AND NORAH'S INFINITE PLAYLIST. His songs have also appeared in Dave Boyle's SURROGATE VALENTINE, SWAMP PEOPLE and commercials. Kevin Barker lives in Brooklyn. Last Kind Words is Kevin's first feature.
Filmmaker's note
When developing the story, I became fascinated with an arcane 1930s folk-blues recording by Geeshie Wiley titled "Last Kind Words Blues," in which her lover tells her if he dies at war that he'll appear to her across the Mississippi River. She uses an archaic meaning of "kind," meaning "of a type" – like "payment in kind." "Last kind words" means last earthly words before passing to the other side. The idea of a love across the earthly divide overlaid on the fading landscape of the Kentucky farm gave me the foundation for the movie.
Notes
Writer/Director Kevin Barker, Producer Amy Riherd Miller, and Composer Robert Aiki Aubrey Lowe will be available for a Q&A after the screening.
Related links