1/1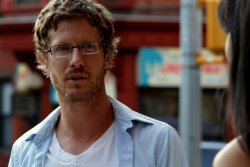 ---
LEFTY LOOSEY RIGHTY TIGHTY
World Premiere
United States, 2011, 91 min
Shooting Format:RED
Festival Year:2012
Category:Narrative Feature
Cast:Louis Ozawa Changchien, Eric Sheffer-Stevens, Shane McRae, Jennifer Mudge, Jennifer Ikeda, Rebecca Blumhagen, Kevin Carroll, Jenny Sheffer Stevens
Crew:Producers: Patrick Thomas McNamara, James Yaegashi, Judson Pearce Morgan - Screenwriters: Patrick Thomas McNamara- Cinematographer: Judson Pearce Morgan - Editor: Judson Pearce Morgan
Email:patrick@leftylooseymovie.com
Synopsis
Mid-life crises overtake a group of friends in this charming romantic comedy set in Park Slope, Brooklyn. Michael, Franklin and Lloyd are facing the precipice of middle-age. Michael, a former indie rocker, is a new dad and not sure how he feels about his life of comfortable domesticity. Franklin is a recently divorced college professor who's convinced he's a loser and no one will love him ever, ever again. Lloyd is an aspiring novella-ist and reluctant part-time notary who's most successful at eating nachos and shunning commitment from his longtime on-again/off-again friend-with-benefits Kit. "Lefty Loosey Righty Tighty" is the story of three friends who are too old to be young. And too young to be old.
Trailer
About the director
Son of an American mother and a Japanese father, James Yaegashi was born and raised in Japan. A longtime actor in the NY scene with numerous credits in film, television and the theater (B'way & Off B'way), Lefty Loosey Righty Tighty is a project James created as a way of bringing together the wonderful people he's worked with in NY. He is also the conceiver of the theater benefit "SHINSAI: Theaters for Japan" which brought together roughly 100 theaters, nationwide, to support artists recovering from the disasters in Japan. James lives Brooklyn with his wife and two kids.
Notes
Director/Producer James Yaegashi and Writer/Producer Patrick McNamara will be available for a Q&A after the screening.
Related links