1/1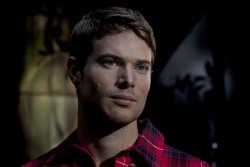 ---
BUCKSVILLE
NY Premiere
United States, 2011, 104 min
Shooting Format:RED
Festival Year:2012
Category:Narrative Feature
Cast:Thomas Stroppel, Ted Rooney, David Bodin, Storm Large, Gretchen Corbett, Allen Nause, Nathan Dunkin, Paul Glazier, Erin McGarry, Ryan Findley, Alexander MacKenzie, Kacie Thomas, Betty Moyer, Robert Blanche, Katy Beckemeyer, Elijah Nelson, Ayanna Berkshire, Michele Mariana, Duffy Epstein, Todd Robinson, Tom Berenger
Crew:Executive Producers: Chel White, Laura Mcgie, David Hume Kennerly, Charles Jennings, Tom Berenger - Producers: Laura Mcgie, Darren M. Demetre - Screenwriters: Laura Mcgie, Chel White - Cinematographer: Marc Greenfield - Editor: Ben Blankenship, Dennis Fitzgerald, Chel White - Composer: Chel White, Tom Brosseau
Email:chelfilm@teleport.com
Synopsis
Abandoned by his mother at a young age, 25-year old Presley Alan French (Thomas Stroppel) has grown up in the shadow of his father and a small town, secret militia called The Lodge. Along with his cousins, he is committed for life to participate in the group's self-appointed mission of justice and capital punishment. Over the years, more than 20 executions have been carried out in the name of community service. When The Group forms connections to a national militia with an extremist Right Wing agenda, Presley must decide whether to break all family bonds or become an accomplice in politically motivated killings. With an eerily beautiful tone, Bucksville touches on the timely topics of ethics and the militia movement, within the context of family conflict. It is also a film about love, loyalty, and the loss of innocence.
Trailer
About the director
Drawing from dreams as a primary inspiration, Chel White's films paint indelible pictures of the human experience. Directing media for over 20 years, his film festival screenings include Cannes, Berlin, Tribeca, SXSW, Brooklyn and three films in Sundance. He is the recipient of a Rockefeller/Ford Foundation media fellowship. White's commissioned work includes shorts for Saturday Night Live, a music video for Radiohead's Thom Yorke (Best Music Video SXSW), and a video for David Lynch (Cannes 2012). In 2007, he created a short on climate change for Live Earth (in partnership with Al Gore). Bucksville is Chel White's first feature film.
Notes
Editor Ben Blankenship, Producers Consultant Robert "Bob" Hawk and actor Ryan Findley will be available for a Q&A after the screening.
Related links