1/1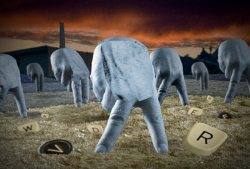 ---
A PAINFUL GLIMPSE INTO MY WRITING PROCESS
(IN LESS THAN 60 SECONDS)
East Coast Premiere
United States, 2005, 1 min
Festival Year:2006
Category:Animation
Cast:Don Alder, Richard Moore (narrator)
Crew:Associate Producer: Randy Wakerlin - Screenwriter: Scott Poole - Editor: Steven Miller - Cinematographer: Mark Eifert - Original Score & Sound: Lance Limbocker
Sales:Chel White Films, 2729 SE Division Portland, Oregon 97202 USA - T: 503.228.6206 - F: 503.228.1007
Email:chelfilm@teleport.com
Synopsis
Dark and humorous, this extremely short film is a stream-of-conscious look at the writing process, told with animated images straight from the subconscious... or somewhere.
About the director
Drawing from dreams as a primary inspiration, Chel White's films paint indelible pictures of the human experience. Directing media for over 20 years, his film festival screenings include Cannes, Berlin, Tribeca, SXSW, Brooklyn and three films in Sundance. He is the recipient of a Rockefeller/Ford Foundation media fellowship. White's commissioned work includes shorts for Saturday Night Live, a music video for Radiohead's Thom Yorke (Best Music Video SXSW), and a video for David Lynch (Cannes 2012). In 2007, he created a short on climate change for Live Earth (in partnership with Al Gore). Bucksville is Chel White's first feature film.
Notes
Director Chel White will be available for Q&A after the screening.
Related links