1/1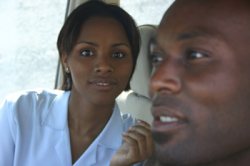 ---
COUSINES
World Premiere
Director: Richard Senecal
WINNER: Best Producer and Best Actor Female
Cast:Jimmy Jean-Louis, Jessica Geneus, Jerry Lentz Rocher, Soledad Elizabeth Jean, Rudolph Moise
Crew:Producer: Wilkenson Bruna - Sound: John Mogene
Sales:Wilkenson Bruna c/o Will Brothers Entertainment, Fort Lauderdale, FL - T: (954)316-3851 - F: (954)316-3856
Email:wbruna@willbrothers.com
Synopsis
Jessica is a young Haitian woman whose quiet life in Port-au-Prince is turned upside down when her father suddenly dies. Without him around to pay the bills she soon finds herself out on the street. But she is taken in by her friend Johanne, a woman who ekes out a lavish existence due to the "generosity" of her many lovers. When Johanne is hospitalized, Jessica is left with some difficult decisions. Will she succumb to the lure of Johanne's lifestyle and the promises of a wealthy and handsome suitor, or will she embrace the simple life and the love of her classmate Bobby? Set amidst the lush Haitian landscape, this is a compelling look at temptation and the choices some people have to make in order to survive.
Trailer
About the director
Richard Senecal is a well known Haitian director and producer. He started his career as an advertisement and music video director. He was involved also as director of photography or editor in many Haitian feature films. In 2001 he directed and produced his first feature length film "Barikad" that was critically acclaimed in Haiti and he 2003 he directed "I love you Anne" the most popular Haitian comedy ever done. Richard Senecal owns and leads Imagine Haiti, a well-known production facility.
Notes
Director Richard Senecal, Producer Wilkenson Bruna and actors Jimmy Jean-Louis, Jessica Geneus and Rudolph Moise Actor will be available for Q&A after the screening.
Related links