1/1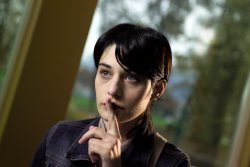 ---
CONTACT
(Kontakt)
East Coast Premiere
Director: Sergej Stanojkovski
WINNER: Best Cinematography
Cast:Nikola Kojo, Labina Mitevska, Petar Mircevski, Vesna Petrushevska, Gjuner Ismael
Crew:Producers: Marcelo Busse, Markus Halberschmidt, Tomi Salkovski - Screenwriter: Gordan Mihic, Sergej Stanojkovski - Editor: Andrea Pugner - Cinematographer: Tomislav Pinter - Sound: Peter Schumacher
Sales:Sasha Wieser c/o EastWest Filmdistribution - Schottenfeldgasse 14, A-1070 Vienna, Austria - T: +43 1 524 93 10
Email:office@eastwest-distribution.com
Synopsis
Forty year-old Janko is such a troublemaker, even the warden at his prison wants him let out on parole. He is soon released into the care of his half-brother Novak who has also become the reluctant guardian to his 25 year-old sister-in-law Zana, recently release from a psychiatric institute. The abrasive, ill-tempered ex-convict and the emotionally fragile Zana are brought together when Novak coerces Janko into renovating Zana's dilapidated mansion. Both are guarded, but in each other's presence they forge a unique relationship that may just be the cure for Zana's mental illness. This funny, bittersweet story is about two oddballs who stumble upon love when they least expect it.
Trailer
About the director
Sergej Stanojkovski studied direction and documentary film at Filmakademie FAMU in Prague. During his studies with Prof. Otakar Vavra (amongst others) he did several studen's shorts. The development of visual impression became his main focus in the course of his studies. He received the "Pavel Juracek Filmpreis" of the FAMU academy for his excellence in expression. After many short, documentary and advertising films he finished his first feature film "KONTAKT" in 2005 as an international co-production.
Notes
October 22, 2006 -- KONTAKT has been named as the official Macedonian entry for the upcoming Academy Awards.
Related links