1/1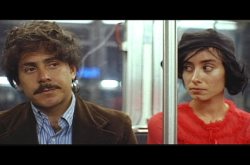 ---
THE GOODTIMESKID
East Coast Premiere
Cast:Sara Diaz, Gerardo Naranjo, Azazel Jacobs
Crew:Producers: Richard abramowitz, Andrew Mencher, Sara Diaz, Georgina Garcia Riedel, Ernest Garabito - Screenwriter: Gerardo Naranjo, Azazel Jacobs - Cinematographer: Azazel Jacobs, Gerardo Naranjo, Eric Curtis - Original Score: Mandy Hoffman - Sound: Lisa Fowle
Sales:Richard Abramowitz c/o Abramorama Armonk, NY U.S.A. - T: 914-273-9545
Email:richard@abramorama.com
Web:goodtimeskid.com
Synopsis
When two men's paths cross due to having the same names, lives intertwine, and the girl between them gets the chance to escape her daily routine.
Trailer
About the director
This film marks the second feature film from Azazel Jacobs. His first, "Nobody Needs To Know" was screened in many prestigious festivals throughout the world and garnered substantial critical acclaim. Most recently, it became one of the pioneer internet releases, made available for free. Jacobs, son of avant-garde filmmaker Ken Jacobs, has been making short films for the past 12 years, and has received awards (Thayer, Sheila Allen endowment, Best short Slamdance, and most recently his short "Kirk and Kerry" was recently purchased for the NY Public Library's permanent collection) as well as a BFA from the film department at SUNY Purchase (1995) and a Masters in directing from AFI in 2001.
Notes
Director Azazel Jacobs will be available for Q&A after the screening.
Related links