1/1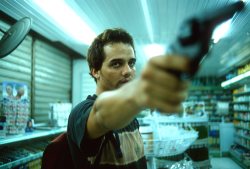 ---
LOWER CITY
NY Premiere
Cast:Lazaro Ramos, Wagner Moura, Alice Braga, Maria Menezes, Joao Miguel Leonelli
Crew:Producers: Walter Salles, Mauricio Andrade Ramos - Associate Producers: Donald Ranvaud, Robert Bevan - Screenwriter: Sergio Machado, Karim Ainouz - Editor: Isabela Monteiro de Castro - Sound: Leandro Lima, Romulo Drummond - Director of Photography: Toca Seabra, A.B.C - Production Designer: Marcos Pedroso - Soundtrack: Calinhos Brown, Beto Villares
Sales:Ed Arentz, Head of Theatrical Sales - Palm Pictures, 76 9th Ave. Ste. 1110, New York, NY 10011 - T: 212.320.3653 - F: 212.320.3639
Email:ed.arentz@palmpictures.com
Synopsis
Deco and Naldinho are best friends in a constant struggle to earn an honest living in the gritty world of Salvador de Bahia's Lower City. When a beautiful prostitute named Karinna (Braga) asks to hitch a ride, the twosome quickly becomes a threesome. To survive life in the Lower City, the trio must learn to accept each other as lovers, friends and enemies. A startlingly intimate debut from director Sergio Machado, LOWER CITY bursts with intensity and sensuality stemming from the unflinching performances of the vibrant young cast and the exotic locale.
From the filmmakers of Academy Award nominee Central Station and Academy Award winner The Motorcycle Diaries, comes LOWER CITY, a passionate Brazilian drama starring Alice Braga from City of God.
Trailer
About the director
Born in Salvador in 1968, Sérgio Machado began working in cinema in 1993. He made several video documentaries and in 1996 began working with director Walter Salles. He worked as assistant director on Salles' award-winning 'Central Station.' 'Lower City' is his first feature film.
Related links