1/1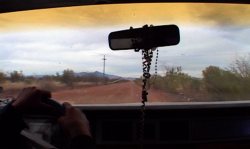 ---
CROSSING ARIZONA
East Coast Premiere
Director: Joseph Mathew & Dan DeVivo
United States, 2006, 95 min
Shooting Format:MiniDV
Festival Year:2006
Category:Documentary Feature
Cast:Mike Wilson, Chris Simcox, Alexis Mazon, John Fife, Robin Hoover
Crew:Story Editor: Laurie MacMillan - Editors: Dan DeVivo, Laurie MacMillan, Christina Kaufman - Supervising Editor: Kim Connell - Cinematographer: Joseph Mathew - Additional Photography: Dan DeVivo - Co-Producer: Joel Pomeroy - Supervising Producer: Kelly Sheehan - Executive Producer: www.rainlake.com - Sound: Kim Connell
Sales:Joel Pomeroy, Executive Producer c/o Rainlake, New York, NY - T: 212.343.0777
Email:ddevivo@mac.com
Synopsis
An up-to-the-moment look at the hotly debated issues of illegal immigration and border security on the U.S./Mexico border. With Americans on all sides of the issue up in arms and Congress embroiled in a knock-down-drag-out policy battle over how to move forward, this feature documentary tells the story of how we got to where we are today. Heightened security along the Texas and California borders funnels an estimated 4,500 undocumented migrants, most traveling on foot, into remote sectors of the Arizona desert on a daily basis. The perilous journey, which can take up to four days, has led to the deaths of thousands of migrants. The influx of migrants and rising death toll has elicited impassioned responses and complicated feelings about human rights, culture, class and national security. Through the eyes of frustrated ranchers, local activists, desperate migrants, and the Minutemen who've become darlings of the national media, CROSSING ARIZONA reveals the surprising political stances people take when immigration and border policy fails everyone.
About the director
Joseph Mathew: With a background in finance and economics, Joseph moved to the U.S. from India in 1994 to pursue his life-long dream career in photo and video journalism. Joseph was a freelance photojournalist for the AP's Baltimore bureau and completed his first feature documentary, The Last Season: The Life and Demolition of Baltimore's Memorial Stadium, in 2002. He now lives in Brooklyn.
Dan DeVivo graduated from Harvard University in 1999 with a B.A. in Social Anthropology. He spent the next several years honing his filmmaking skills in the field. Based in New York City, he has worked on several projects including, "Counting On Democracy" and "We Are Family." In 2002 Dan co-produced and edited "Refusing To Die: A Kenyan Story," which chronicles political turmoil within the former British colony through the experiences of Koigi Wa Wamwere. He now lives in Queens.
Notes
Filmmakers will be available for Q&A after the screening
Related links