1/1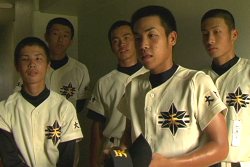 ---
KOKOYAKYU: HIGH SCHOOL BASEBALL
World Premiere
United States, 2006, 53 min
Shooting Format:HDCAM
Festival Year:2006
Category:Documentary Feature
Cast:Hideshi Masa, Takahiro Maeda, Hitoshi Takashima, Ryoichi Haruki, Yoichiro Furukawa
Crew:Producers: Alex Shear, Takayo Nagasawa - Screenwriter: Alex Shear - Cinematographer: Jake Clennell - Original Score: Karen Tanaka - Second camera: Takeshi Inamura - Co-producer: Casey Meade
Sales:Alex Shear c/o Projectile Arts, Inc., 80 Franklin Street Brooklyn, NY 11222 - T: 718-210-3562
Email:alex@projectilearts.org
Synopsis
Taking Western viewers inside a never-before-seen world, the film follows two of the 4,000 high school baseball teams in Japan striving to make it to the National Championships at Koshien Stadium. Much more just than a game, this martial arts baseball has a deeper purpose: the forging of the spirit.
About the director
Kenneth Eng obtained his film degree from the School of Visual Arts in NYC. He has directed/edited several documentaries and short films, including the Projectile Arts feature doc "Take Me to the River". Eng directs and edits music videos, electronic press kits and short-subject documentaries through the TriBeCa production company he co-founded, Python Aquarius Productions.
Notes
Director Kenneth Eng, Writer / Producer Alex Shear, and Producer Takayo Nagasawa will be available for Q&A after the screening.
Related links