1/1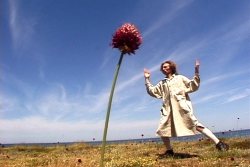 ---
I KNOW WHO I AM!
World Premiere
France, 2006, 20 min
Shooting Format:MiniDV
Festival Year:2006
Category:Experimental
Cast:Eve Bitoun, Catherine Despont, Theodore Fivel, Michael Portnoy, Chethwith Murosian
Sales:Michael Portnoy - New York, NY U.S.A. - T: (202) 415-5203
Email:inquiries@sakanama.com
Synopsis
Set on L'Île-d'Yeu, a fishing island off the coast of Brittany, 'I KNOW WHO I AM !' is a carnivalesque multinarrative in the form of an epic trailer about a group of people desperately hunting for intrigue. It is an operatic, island-wide parlor game whose objective is to avoid discovering what remains when character is exhausted.
About the director
SAKANAMA is a collective of creators whose work involves multimedia art, performance, writing, filmmaking, music, choreography and social engineering. SAKANAMA's primary members are Catherine Despont, Theodore Fivel, Chethwith Murosian, and Michael Portnoy, and individually their work has been presented at museums, galleries, theaters and music-venues and in printed-matter internationally.
Notes
Filmmakers will ba available for Q&A after the screening.
Related links