1/1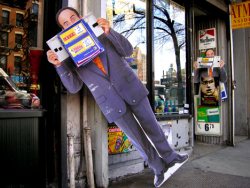 ---
E=NYC2
NY Premiere
United States, 2005, 5 min
Shooting Format:MiniDV
Festival Year:2006
Category:Experimental
Crew:Producers: Kimi Takesue, Steve Hamilton, Richard Beenen - Sound: Justin Kawashima
Sales:Kimi Takesue c/o Kimikat Productions, New York, NY
Email:kimitakesue@earthlink.net
Synopsis
E=nyc2 captures the dynamic energy and movement of New York City. Structured in a series of observational vignettes, this piece features New Yorkers moving through self-contained, yet interconnected, worlds as they pursue their lives and dreams.
About the director
Kimi Takesue is an award-winning filmmaker and the recipient of the Guggenheim Fellowship in Filmmaking. Her films have screened at more than 200 film festivals and museums internationally including Sundance, the Locarno International Film Festival, Rotterdam International, Vancouver International, and the Walker Art Center. Takesue's films have aired on PBS, IFC, and the Sundance Channel. SUMMER OF THE SERPENT won the Grand Chameleon at the 2004 BIFF. She is currently developing a narrative feature film project.
Kimi Takesue's filmography
Notes
Director Kimi Takesue will be available for Q&A after the screening.
Related links