1/1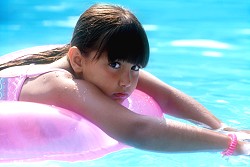 ---
SUMMER OF THE SERPENT
NY Premiere
WINNER: Grand Chameleon Award and Spirit Award
Cast:Joyce Perrone, Keiichi Kondoh, Kelly Kunik, Willem Zuur, Sarah Zhang, Charles Slowey
Crew:Producer(s): Kimi Takesue -Co-Producers: Richard Beenen, Jeffrey Wolfe, Scott Johnston - Associate Producer: Georgiana Pickett - Screenwriter: Kimi Takesue - Editor: Steve Hamilton, Malcolm Hearn, Kimi Takesue - Cinematographer: Robert Sciretta - Original Score: Ryan Shore - Sound: Dave Paterson, Brian Emrich, Rachel Chancey - Production Designer: Norman Dodge -Costume Designer: Lisa Frucht - Music Supervisor: Beth Urdang
Sales:Kimikat Productions - New York, NY - USA - T: 212-643-9913
Email:kimitakesue@earthlink.net
Synopsis
Eight-year old Juliette sits at the side of the local pool waiting for another lonely summer day to pass when an unexpected newcomer arrives. Fascinated by the stranger, Juliette embarks on a surreal adventure of discovery. SUMMER OF THE SERPENT explores the unlikely bond that develops between two people from different worlds. Tender and provocative, this visually driven story raises questions about difference and desire.
About the director
Kimi Takesue is an award-winning filmmaker and the recipient of the Guggenheim Fellowship in Filmmaking. Her films have screened at more than 200 film festivals and museums internationally including Sundance, the Locarno International Film Festival, Rotterdam International, Vancouver International, and the Walker Art Center. Takesue's films have aired on PBS, IFC, and the Sundance Channel. SUMMER OF THE SERPENT won the Grand Chameleon at the 2004 BIFF. She is currently developing a narrative feature film project.
Kimi Takesue's filmography
Notes
The director will be available for Q&A after the screening. Lead actor Keiichi Kondoh, co-producer Richard Beenen and associate producer Georgiana Pickett will also be in attendance.
Related links