1/1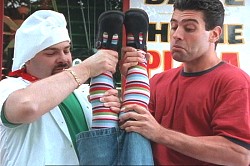 ---
HIC! - OPEN A DOOR IN THE USA
United States, 2003, 5 min
Shooting Format:Super 16
Festival Year:2004
Category:Narrative Short
Cast:Gail Quintos, Stephanie Wang
Crew:Producer: Ann Taylor - Screenwriter: Koyalee Chanda - Editor: Koyalee Chanda - Cinematographer: Laela Kilbourn - Original Score: Nick Balaban and Michael Rubin - Sound: Irin Strauss
Sales:Inner Dog Productions, Brooklyn, NY - T: 718-624-2661
Email:koyalee@earthlink.net
Synopsis
"Hic!" follows a five-year old Asian-American girl through her ethnically mixed neighborhood as she tries to find a cure for her hiccups. Through comic scenes and montages with deli owners, restaurateurs, friends, and neighbors, the protagonist is offered many different cures for the hiccups. Ultimately, the most basic solution is the one that works.
About the director
Koyalee Chanda is a three-time Emmy-nominated director based in Brookyn. She has been the primary director on Nickelodeon's hit series Blue's Clues for 5 seasons, having directed many of the program's primetime specials. Additionally, Koyalee has written and directed 2 short films and a documentary about arranged marriages in her family. In 2002, Koyalee was commissioned by Nickelodeon to write, direct and produce "Hic!" for Ragdoll Productions' series "Open a Door."
Notes
The director will be available for Q&A after the screening.
Related links