1/1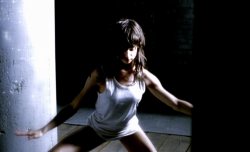 ---
LOVE IS THE ONLY MASTER I'LL SERVE
World Premiere
Belgium, 2006, 22 min
Shooting Format:16mm
Festival Year:2006
Category:Experimental
Cast:Louise Peterhoff, Claron McFadden, Clara-Lane Lens
Crew:Cinematographer: Renaat Lambeets - Choreography: Louise Peterhoff - Sound: Dan Van Bever & Nicolas Van Dooren - Art Designer: Pierre-Francois Limbosch - Venue Designer: Axel Vervoordt - Editor: Simone Rau & Stefan Rijcken - Executive Producer: Brigitte Baudine
Sales:Tabaran Company, 104, Clos des Chênes, B-1170 Brussels, Belgium
Synopsis
Two women address themselves to an imaginary love-god seeking a unification into one and the same entity.
About the director
Nicholas Lens, composer & author of operas such as "The Accacha Chronicles" (published by Schott Musik International, distributed Sony/Bmg International). "Love is the only master I'll serve" is his first film as a director/screenwriter. Currently Lens is preparing a new film called "The Sorrow of Serena" and writing an opera with John Coetzee based on his novel "Slow Man." Nicholas Lens lives in Brussels.
Notes
Director Nicholas Lens will be available for Q&A after the screening.
Related links