Latest News: BROOKLYN CASTLE has been selected by P.O.V. to screen nationwide on PBS in 2013. BROOKLYN CASTLE previously opened theatrically nationwide on October 19, 2012. www.brooklyncastle.com
1/1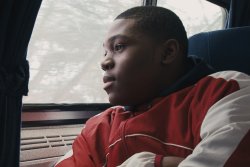 ---
BROOKLYN CASTLE
NY Premiere
Director: Katie Dellamaggiore
United States, 2012, 101 min
Shooting Format:HDCAM, DVCPro
Festival Year:2012
Category:Documentary Feature
WINNER: Best New Director
Crew:Producers: Katie Dellamaggiore, Nelson Dellamaggiore, Brian Schulz - Editor: Nelson Dellamaggiore
Email:info@brooklyncastle.com
Synopsis
Intermediate School 318 is an inner-city school in Williamsburg, Brooklyn where more than 65 percent of the students are from homes with incomes below the federal poverty level. I.S. 318 also happens to have the most winning junior high school chess team in the nation. The school has cultivated many of the nation's highest ranked chess players, and if Albert Einstein, who was rated 1800, were to join the chess team, he'd only rank fifth. Chess has helped transform the school from one cited in 2003 as a "school in need of improvement" to one of New York City's highest achieving middle schools. But a series of recession-driven public school budget cuts now threaten to undermine those hard-won successes.
Trailer
About the director
Katie Dellamaggiore is a documentary producer / director whose work appeared on MTV, A&E, HBO/Cinemax and VH1. She held various roles on award-winning documentaries including 39 Pounds of Love, To Die in Jerusalem, 51 Birch Street, American Teen and After the Storm. She produced / directed UR Life Online for A&E Classroom, which explored sexual solicitation and cyber bullying and received an Emmy nomination for Single Camera Editing. In 2010, with her husband, Nelson, co-founded Rescued Media. Brooklyn Castle, Katie's feature directorial debut, received support from IFP Independent Film Week, Chicken & Egg Pictures, The Fledgling Fund, and Britdoc's The Good Pitch.
Notes
Director Katie Dellamaggiore will be available for a Q&A after the screening.
Related links