1/1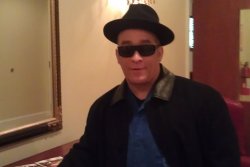 ---
KING DAVID: PART ONE
World Premiere
Director: Jeff M. Giordano
United States, 2011, 14 min
Shooting Format:HDV
Festival Year:2012
Category:Documentary Short
Cast:David McClain
Crew:Producers: Jeff M. Giordano - Cinematographer: Jeff M. Giordano - Editor: Morgan Z. Schultz - Composer: Shinyub Pyo
Email:info@jeffmgiordano.com
Synopsis
A glimpse into the past and present lives of David McClain, an ex-gangster from New York City who carries the heavy scars of his past.
About the director
Jeff M. Giordano was a poet and experimental musician before becoming an award-winning filmmaker. He graduated from the University of North Carolina: School of the Arts - Film School, with a focus on film directing. Before attending film school, Giordano studied psychology for two years at Ursinus College. He is the founder and curator for a bi-monthly Film Screening Series in Williamstown, New Jersey. Currently, Giordano is in production on a full-length documentary about the life of David McClain. He has known David McClain for the past 6 years.
Notes
Director Jeff M. Giordano will be available for a Q&A after the screening.
Related links