1/1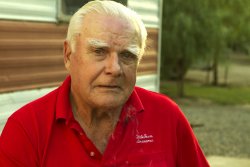 ---
THE WILD 'N' TENDER DANE STURGEON
World Premiere
Crew:Producer: Douglas Mcgowan - Editor: Raffy Gerard - Cinematographer: Charles Anderson - Camera: Gabriel Patay
Email:thegrapetree@gmail.com
Synopsis
An intimate portrait of musician Dane Sturgeon who self-released one album in 1967 and sold 4,000 copies of it in Albuquerque, New Mexico when he was 37 years-old. He now grows marijuana behind the trailer he shares with his Thai wife who barely speaks English.
Trailer
About the director
Adam Ridley was born in Detroit, Michigan to amazingly independent parents and an awesomely creative older brother. He enjoys making films with his incredibly inspiring friends from across this great land. His company, Bumbleton Communications, specializes in transmitting documentarial moving picture pieces into your eyebrains. Their next project is about God.
Notes
Director Adam Ridley will be available for a Q&A after the screening.
Related links