1/1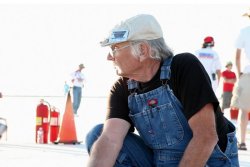 ---
NEBULOUS THEOREM
World Premiere
Director: Kelly Loudenberg & Arianna Lapenne
United States, 2011, 4 min
Shooting Format:HDCAM
Festival Year:2012
Category:Documentary Short
Crew:Producer and Story Concept by: Kelly Loudenberg - Editors: Nick Carbonaro, Brandon Jourdan - Cinematographer: Arianna Lapenne
Email:ari@ariannalapenne.com
Synopsis
One of Albert Einstein's greatest insights was the realization that time is relative. The speed of the passage of time, is relative to the velocity of the object moving through time and space, or 'space-time'. Jack Costella has a lot in common with Albert Einstein. Creator of the 'Nebulous Theorem' land speed racing vehicles, and something of a poet philosopher: he's trying to discover meaning by challenging our, and possibly his own, earthly perceptions of the 'space-time' continuum. The Bonneville Salt Flats, where he has set more land speed records than many of his competitors combined, have seen astounding recordings, or 'times' of over 600 mph. With this kind of speed, can a variance in perception of time be observed? As Costella, discusses intuition, death, and the vacuum, (or continuum), that is the salt flats, we see how he views nothing to be an absolute, certainly not time. Time is just a construct he won't let get in his way.
Trailer
About the director
Kelly Loudenberg is a producer and director based in New York City. She graduated from New York University with a degree in Journalism and Cinema Studies in 2006. Kelly's short-form documentaries explore and illuminate the pursuits of mavericks, visionaries and seekers, and feature personal interviews that aim to portray the human condition. Kelly's work has screened at the Guggenheim Lab, Exit Art, AIA SF and Albuquerque, SIFF, the Architecture and Design Film Festival NY & Chicago, and the Maryland Institute College of Art. Kelly has produced and directed documentaries for HULU, Audi, Columbia University, Vice TV, CNN, Viacom, BBC, Reuters, Current TV, Michael Kors, Elizabeth Arden, Louis Vuitton, and L'Oreal. Currently, Kelly is working with Arianna on her first feature-length documentary about the new face of poverty in America.
Arianna Lapenne is a cinematographer and filmmaker who graduated from NYU's Tisch School of Film & TV. She was born and raised in Brooklyn, though, wandering family road trips through the American west were just as influential. Arianna shoots documentaries because she finds filming real life most interesting. Her work has included subjects such as climate change, American teenagers, gold mining in Colombia, sex trafficking and prostitution in Asia, LGBT in America, and old men in Brighton Beach, New York. Arianna also shoots commercials for major brands, and short docs for international non-profits. Right now, Arianna is working with Kelly on a feature doc about the changing face of poverty in America. In her spare time, Arianna likes to explore the outskirts of New York City looking for weird stuff.
Notes
Director Kelly Loudenberg will be available for a Q&A after the screening.
Related links