1/1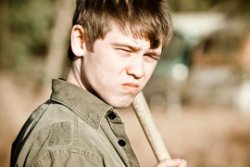 ---
PIGEON KICKER
East Coast Premiere
United States, 2009, 18 min
Shooting Format:RED
Festival Year:2012
Category:Narrative Short
Cast:Spencer Daniels, J. Michael Trautmann, Camille Licate
Crew:Producers: Daniel Long, Milton Liu - Screenwriters: Milton Liu - Cinematographer: Andres Sanchez - Editor: Knar Kitabjian
Email:daniellong@mac.com
Synopsis
Two teens battle emotional issues and physical abuse as their lifelong friendship is tested when one of the boys begins seeing a therapist.
Trailer
About the director
Daniel Long is currently the head of production/executive producer at the artist management and production company Casey in New York City. Daniel has been Keeping busy shooting music videos and commercial content for a variety of clients. He is also developing the feature version of Pigeon Kicker. Daniel produced The Lie, which debuted at the 2011 Sundance Film Festival and was released theatrically in late 2011, he also produced the short films, The Last Visit, The Death of Salvador Dali, Birth of Industry, and Hound Dog which have all enjoyed successful festival runs.
Notes
Director Daniel Long will be available for a Q&A after both screenings, and writer Milton Liu will also be available for a Q&A after the June 3rd screening.
Related links