1/1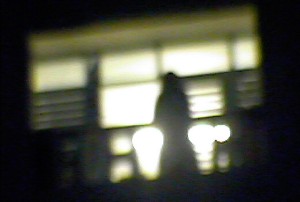 ---
QUIENES SON?
(WHO ARE THEY?)
East Coast Premiere
Venezuela, 2001, 8 min
Shooting Format:MiniDV
Festival Year:2002
Category:Experimental
Crew:Producer: Tommaso Fiacchino - Editor: Matteo Fiacchino - Cinematographer: Alex Stikich - Original Score: The Human Isolated Bacteria
Sales:Alex Stikich, 555 Washington Avenue #3H, Brooklyn, NY 11238 - T: 718-622-1534
Email:energyx@excite.com
Synopsis
"Quienes Son?" is an experimental short film that combines elements of documentary with fantasy to portray a surreal vision of Cuba. "Quienes Son?" uses an "extraterrestrial" metaphor to look at the lighter side of a possible Cuban invasion. The film presents a set of testimonials regarding the appearance of "extraterrestrials" in the island. These sequences are woven together with the perspectives of the interviewer, and by the implied presence of the roaming intruder. Adding to this mixture are excerpts from Cuban radio that denounce the cultural and economical dominance of the United States, and a mysterious and spacey original score.
About the director
Alexander Stikich grew up bouncing between Venezuela and Yugoslavia to eventually end up in New York. "Quienes Son?", his first film, uses reality and fantasy to portray a surreal vision of Cuba. Currently, he is working on "Djinn," a documentary about spirits and trance possession in Morocco, and "Honesto," a project illustrating the adventures of a third-world corrupt politician. Alex is interested in combining elements of documentary together with a surreal overlay to create spontaneous and inspiring imagery.
Related links