1/1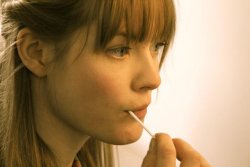 ---
HOW TO RID YOUR LOVER OF A NEGATIVE EMOTION CAUSED BY YOU!
East Coast Premiere
Canada, 2010, 15 min
Shooting Format:35mm
Festival Year:2012
Category:Narrative Short
Cast:Joe Cobden, Sarah Allen
Crew:Producer: Heather K. Dahlstrom and Daniel Bekerman - Writer: Ryan Cavan - Editor: Alexandre-Nicholas Giffard - Cinematographer: Daniel Grant - Production Design: Nazgol Goshtasbpour
Email:howtoridyourlover.director@gmail.com
Synopsis
In true love, emotions are overwhelming. Positive emotions. Negative emotions. Sadie's found the perfect way to keep things neat and tidy with Dennis so she doesn't have to be overwhelmed by any emotions. So what if there is a little blood? This would be a perfect romance, so no long as no one bleeds to death.
Trailer
About the director
Nadia Litz is an award-winning Canadian actress turned filmmaker. After obtaining a film theory degree, she was accepted as a Director-In-Residence at Norman Jewison's post-graduate school, the Canadian Film Center where she directed How To Rid Your Lover Of A Negative Emotion Caused By You! The film won best short at Austin's Fantastic Fest and was featured on the Wholphin anthology with work by Jay Duplass and Sean Durkin. Litz was a resident at Berlinale Campus and TIFF Talent Lab lead by Jason Reitman and the late Bingham Ray. She recently completed an experimental portrait on Canada's former Governor General Adrienne Clarkson and is currently in development with telefilm/Scythia Films on her first feature The People Garden.
Notes
Director Nadia Litz and Producer Dan Bekerman will be available for a Q&A after the June 3rd screening.
Related links