1/1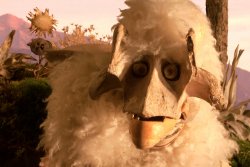 ---
THE OLD MAN AND THE OLD WOMAN
(Dziad i Baba)
NY Premiere
Director: Basia Goszczynska
United States, 2011, 8 min
Festival Year:2012
Category:Animation
Crew:Producers: Basia Goszczynska - Screenwriters: Jozef Ignacy Kraszewski - Editor: Basia Goszczynska - Composer: Ralf Gawlick, Luis Lamar
Email:basia@mystopmotion.com
Synopsis
Two soul mates struggle with opposing fears of death and loneliness in this short dark comedy.
Trailer
About the director
Basia Goszczynska is a Polish-Canadian director and producer specializing in stop motion animation. Her first independent short film release, Dziad i Baba (The Old Man and the Old Woman), has screened at the Uppsala International Short Film Festival, the Calgary International Film Festival, the St.Louis International Film Festival, the Omaha Film Festival, and the Sarasota Film Festival. She currently works as a video editor and animator for the Roger Hanlon Laboratory at the Marine Biological Laboratory and holds a Bachelor of Fine Arts from the School of the Art Institute of Chicago.
Notes
Director Basia Goszczynska will be available for a Q&A after the screening.
Related links