1/1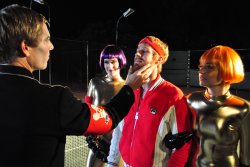 ---
TENNIS
World Premiere
United States, 2012, 3 min
Shooting Format:Super 16
Festival Year:2012
Category:Narrative Short
Cast:Eliot Benjamin, Christopher Vitiello, Kiel Kennedy, Ross Denyer, Dan Hagen, Kyle Higgins, Jay Rau, Ryan Sandoval, Robert Silverman, Ashley Brown, MIssy Hayduk
Crew:Executive Producers: Steven Herczeg - Producers: Darren Herczeg, Yfke Van Berckelaer - Screenwriters: Darren Herczeg - Cinematographer: Milena Pasterich - Editor: Darren Herczeg - Composer: Andrew Hentz
Email:crushdmv@gmail.com
Synopsis
Two men play an evenly-matched game of tennis. When one player misses a shot, a group of soldiers storm the court and apprehend him. Later that night, the tennis camp Kommandant renders final judgment on the losing party, "If you're going to play...Don't lose."
Trailer
About the director
Darren Herczeg has produced, written, directed and often starred in countless short films, including the award-winning, controversial The Boy Princes: A Tragedie Most Monstrous and the epic Barbariana: Queen of the Savages. As a host on Fox Movie Channel's Life After Film School (2006-2007), he interviewed many acclaimed filmmakers including Morgan Spurlock (Supersize Me), Ryan Murphy (Glee), Ralph Winter (X-Men), and John Cassar (24). His work as a cinematographer has been broadcast on Adult Swim and Comedy Central Holland. Having recently completed the experimental feature Boyz Nite Out/Grrlz Nite In, Darren continues to develop his unique brand of filmmaking.
Notes
Director Darren Herczeg will be available for Q&A after the June 5th screening.
Related links