1/1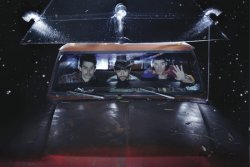 ---
THREE BROTHERS
World Premiere
Cast:Lucas McGowen, Christine Alfred, Sam Falconi, Zach Sky, Zonia Pelensky
Crew:Camera: Max Basch - Editor: Lucas McGowen
Email:lucasmcgowen@gmail.com
Synopsis
Three brothers from upstate New York struggle to free themselves from the limitations of their childhood.
Trailer
About the director
As a child Lucas was exposed to many types of people and lifestyles by his mother, a painter and teacher, who lived in Central America and both the East and West Coasts in the U.S. In 2009 Lucas committed to study art at The New School in NYC. While still a student his video art and photographs were shown at Sundance, Art Basel Miami Beach, as well as several galleries in Manhattan and Brooklyn. Since graduating in 2011 Lucas has written and directed several short films. Lucas is a strong proponent of the "no budget'" approach to film, since it is from the artistry of creative filmmakers that stories unfold and not the deep pockets of the industry. He currently lives and works in the East Village.
Notes
Director Lucas McGowen and writer Zach Sky will be available for a Q&A after the screening.
Related links